Hi Everyone,
Well, lets get on with the Challenge. It's Tuesday and that means it's time for Oldie but a Goodie Challenge, but firstly, I must congratulate the Winner of last the fortnight's Challenge, we had loads of really good entries and I really like looking at each of them, so thank you. I really enjoyed your card / project.
We have a fabulous New Sponsor for this fortnight, offering a fantastic prize:
S K Digi's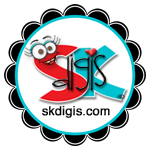 What a fantastic sponsor. So much to choose from.
We have a fantastic host this fortnight, which is Helen and she has also picked a theme of:
'Spooky!!!'
What a great theme, it is up to you how to
interpret this, and it can include a wide range of projects. The choice is endless, but just remember to include the Theme.
Well it's time for you to see my Project, I chose to do a Trick or Treat Bag...
Project Materials
Paper Bag - Hobbycraft, Card - Carol's Crafts, Image - Little Wizard - SK Digi's, Sentiment - Computer Generated, Design Paper - Stash, Ribbon - Create and Craft, Stickers - Halloween - Hobbycraft, Glitter - Angel Whispers - Diamond Sparkles - Hunkydory, Pearls - Kanban
Side View
Have a great time everyone and I can't wait to see how you have used "Spooky!!!" to create your Project this fortnight. Remember you have until the 28th October to post your entry
Don't forget to see my other team members to see what they came up with.
I would like to enter this Halloween Treat Bag into the following Challenges: